eMOP
The Initiative for Digital Humanities, Media, and Culture (IDHMC) at Texas A&M University received a $734,000 grant from the Andrew W. Mellon Foundation in 2012 to make machine readable 45 million pages of data. By partnering with Gale and Proquest, eMOP combines open source OCR (Optical Character Recognition) software and book history in order to improve the accuracy of OCR for early modern (1473-1800) texts. The Early Modern OCR Project (eMOP) aims to publish an open source OCR workflow, improve the visibility of early modern texts by making them fully searchable, and form a community of scholars and institutions interested in the digital preservation of these texts. Our goal is to foster collaboration among various disciplines, and, in doing so, cultivate inter-institutional and international relationships that make possible new kinds of humanities research.
Our workflow (see image below) blends the disciplines of book history, digital humanities, textual analysis, and machine learning in order to create a corpus of keyed texts that are far more correct than is now possible with the current set of tools. These keyed texts will improve access to early modern texts that are currently only searchable through "dirty" OCR or metadata alone. The open source OCR workflow will contain, among other things, access to an early modern font database, customization guidelines for the Tesseract OCR engine, post-processing and diagnostic algorithms, and crowdsourcing correction tools.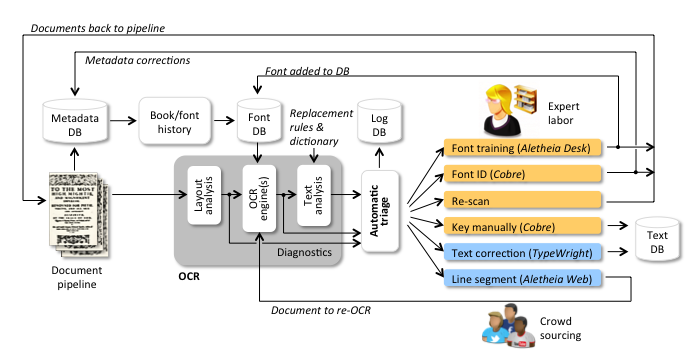 In addition to the published workflow, all tools produced by the eMOP project will be published open source on our eMOP Github page. Many are now available for use in alpha or beta form.
---

More




---




Why eMOP Matters

The Early Modern OCR Project is an effort, on the one hand, to make access to texts more transparent and, on the other, to preserve a literary cultural heritage. The printing process in the hand-press period (roughly 1475-1800), while systematized to a certain extent, nonetheless produced texts with fluctuating baselines, mixed fonts, and varied concentrations of ink (among many other variables). Combining these factors with the poor quality of the images in which many of these books have been preserved (in EEBO and, to a lesser extent, ECCO), creates a problem for Optical Character Recognition (OCR) software that is trying to translate the images of these pages into archive-able, mineable texts. By using innovative applications of OCR technology and crowd-sourced corrections, eMOP will solve this OCR problem.

Cyber Infrastructure

Linked here is a presentation given by Dr. Mandell that explains how eMOP and ARC further the move toward a sustainable cyberinfrastructure.

Part II: Crisis     Quicktime/Flash
(the OCR problem in detail)

Part III: Dangers and Opportunities     Quicktime/Flash
(How could there be a "digital dark age"?)


In high-bandwidth environments, you can find the whole video here.

Mellon Grant Info Respository

The Mellon Foundation has given us permission to publish the grant narrative and appendix, with financial details removed from it. You are welcome to peruse these documents, and we would appreciate any comments. Preliminary documents are also available on the IDHMC's commentpress. Send thoughts to mandell – at – tamu – dot– edu.